To start the week off we had a ton of exciting news to share in the Jailbreaking community. First off none other than P0sixninja announced his new project called OpenJailbreak that aims at making developing Jailbreaks easier. Then Ryan Petrich shared a screenshot of Activator running on what appeared to be a Jailbroken 5th generation iPod Touch running iOS 7.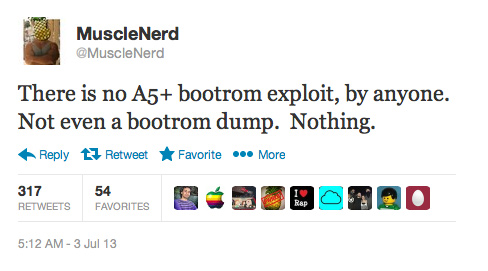 After Petrich shared this image many started to wonder whether or not a bootrom exploit had been discovered as previously rumored by P0sixninja. As the two announcements back-to-back seemed kind of strange to not be a coincidence.
Sadly MuscleNerd chimed in today over
Twitter
stating that there is no A5+ bootrom exploit and not even a bootrom dump. Although this crushes hopes of having all A5 devices Jailbroken
for life
via a tethered Jailbreak like A4 devices, MuscleNerd has
remained optimistic
the end of Jailbreaking is nowhere
in sight
.
Original Post